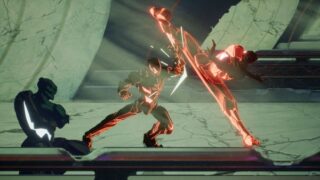 Developer Limestone Games has announced Aeon Must Die!, a beat 'em up RPG coming to PlayStation 4, Xbox One, Switch, and PC.
Here is an overview of the game, via its official website:
About

Aeon Must Die! turns the beat-em-up genre on its head introducing breakneck risk-reward gameplay, innovative tactical fighting favoring brains over reflexes, and an RPG alignment system that tracks how you behave as a warrior and changes the challenge and story accordingly. The ruthless, grim but colorful world looks and feels like that ridiculous action-packed anime VHS tape your parents heavily disapproved of. Go on a violent journey with a disgraced symbiotic emperor, a fuel-blooded amnesiac with a hole in his head and a sentient hoverbike.

Key Features

Play as both the hero and the villain fighting for control over a single body.
Every dialogue choice you make and every punch you throw affects the enemy AI and the path taking you to one of the five endings.
The enemy adapts to your strategies after every brawl. Stay creative with your approach or face the consequences.
Destroy, subdue or befriend the biker gangs of galactic highways to eventually take on a powerful assassin stalking you like a predator throughout the game.
A completely new battle system that ditches all UI to let you focus on the action.
The story-based death/sanity system will make the game as hard or as easy as you want, but remember that evil preys on the weak-minded.
Watch a gameplay video below. View a set of screenshots at the gallery.