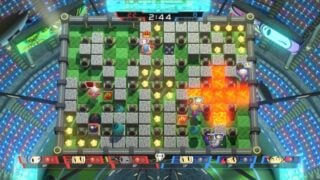 Super Bomberman R, which previously released for Switch, will be released for PlayStation 4 and Xbox One on June 12 in the Americas and June 14 worldwide, and on PC via Steam on June 13, publisher Konami announced. It will cost $39.99 / £34.99.
In addition to the new platforms, special characters will be released in collaboration with Sony, Microsoft, and Valve. Digital pre-orders or retail purchases of the "Shiny Edition" will also include new characters.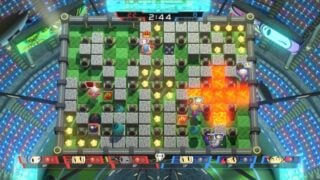 The following collaboration characters will be available:
PlayStation 4 Version – Ratchet & Clank Bomber (from the Ratchet & Clank series)
Xbox One Version – Master Chief Bomber (from the Halo series)
Steam Version – P-body Bomber (from the Portal series)
Digital pre-orders and retail purchases of the Shiny Edition will include the following new characters for a limited time:
Eight Shiny Bomberman Brothers Set
Golden Vic Viper Bomber
Here is an overview of the game, via Konami:
In Super Bomberman R, up to two players can work cooperatively in 'Story' mode to clear stages in order to save the galaxy. Guide a wide variety of Bomberman characters around maze-like areas using timed bombs to open walkways and take out opponents. Multiply the fun and play with up to eight players* in 'Battle' mode, or jump into the competitive Grand Prix mode. Grand Prix is a team-versus-team mode that pits two teams of up to 3 players each who battle it out in different arena stages using characters with special abilities.
View a set of screenshots at the gallery.