Mobile Suit Gundam: Battle Operation 2 Japanese beta set for April 20 and 21
Get high... in the sky with Mobile Suit battles.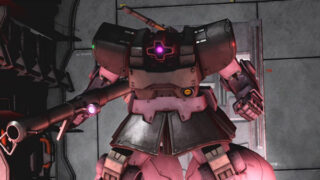 The Japanese beta test for Mobile Suit Gundam: Battle Operation 2 will run on April 20 from 19:00 to 22:00 JST and April 21 from 18:30 to 22:00, Bandai Namco announced.
The upcoming Gundam game will be a free-to-play digital title (with item-based micro-transactions) for PlayStation 4, through which players can enjoy six-on-six team battle action.
While the beta sign-ups held between January and February have ended, Bandai Namco is recruiting additional participants through the download of an "application ticket" on the Japanese PlayStation Store.
The beta test will feature the following content:
Online Lobby: "Base Camp" – Become a pilot and make various battle preparations such as upgrading your Mobile Suit at the battle neutral zone known as the Base Camp. You can also freely walk around with comrades and converse.
Six-on-Six Online Battles

Stages – Shoal Sector / Crash Site
Mobile Suits – Dom, GM Striker, Guncannon, Gundam Ground Type, Rick Dom, Zaku I Sniper Type, Zaku High Mobility Type, and Zudah

Tutorial Mode – A mode where anyone can learn the basics of the controls.
Mobile Suit Gundam: Battle Operation 2 is due out in Japan in 2018.
Thanks, PlayStation Blog Japan.