Mary Skelter 2 announced for PS4
3D dungeon RPG sequel officially confirmed.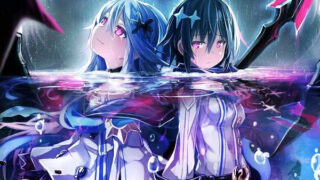 Following a leak late last month, Compile Heart has officially announced Mary Skelter 2 for PlayStation 4.
Here are the details, via the game's official website:
■ Introduction

The latest entry in the Mary Skelter series debuts on PlayStation 4!

What is Mary Skelter?

Mary Skelter: Nightmares is a 3D dungeon RPG released for PS Vita on October 13, 2016. A collaboration between Compile Heart, Dengeki Bunko, and Dengeki PlayStation, Mary Skelter was developed into three different forms of media—game, novel, and magazine—where all of the stories connect.

As a game, Mary Skelter is labeled a "puzzle solving x panic x active 3D dungeon RPG," and its story and systems incorporate the concepts of "blood" and "madness."

In Mary Skelter 2, those properties are further reinforced. It will feature a previously untold story full of madness, as well as powered-up blood systems.

Includes a Remake of Mary Skelter: Nightmares

Mary Skelter 2 includes a full remake of the original Mary Skelter: Nightmares. The revisions made in Mary Skelter 2 are also reflected in the remake of Mary Skelter: Nightmares, making it even more enjoyable.

Mary Skelter 2 and Mary Skelter: Nightmares Remake System Improvements

The following existing systems have been improved based on user feedback:

Dungeon Map Size Adjustments – The sizes of dungeon maps have been slightly adjusted from the original game.
"Automatic Feature" Added to Jail Roulette – After receiving feedback that the Jail Roulette system sometimes obstructs the battle tempo, a setting to turn Manual and Automatic either on or off has been added.
Two Times the Balance Adjustment Period – In order to balance the game and make it more enjoyable, more than twice the amount of balance adjustment time has been taken over the original game.
Two Times the Debug Work Period – In order to eliminate problems such as the many bugs that appeared in the original game, more than twice the amount of debugging has been done over the original game.
Various Features Added to the Warehouse – Various features have been added to the warehouse, including: a sort function, the ability to use gift items as they are in the warehouse, and materials necessary for quests are counted in the warehouse.
Jail Roulette Entries Renewal and "Growth Area" System Changes – Jail Roulette entries have been renewed as to further enjoy the nature of the game. Additionally, the conditions for the appearance of "Growth Areas" have changed. Rather than by luck, Growth Areas can be unlocked during standard play.
Display Method of the Jail's Mood Changed – The display method of the Jail's mood has changed to a notification message that automatically pops up.
Other significant revisions have been applied based on user feedback.

■ World

Jail—an impregnable human asylum called a "living prison."

This prison, which was suddenly born several decades ago, was controlled by monsters called "Marchens" and mad beings that led them called "Nightmares."

Tsuu and the Little Mermaid, members of an organization called "Dawn" whose purpose is to escape from that Jail, successfully rescue new ally Alice, who was captured, and a boy named Jack, who she was with.

Tsuu headed to the city with Alice and Jack, but in the midst of that, Alice's body was dyed in madness and started swinging her blade indiscriminately.

Alice's blade attacked Tsuu, the Little Mermaid, and Jack, who tried to protect Tsuu, and the three fell down below a cliff.

Before the eyes of the princess who woke up below the cliff was Jack, who was seemingly about to die—.

Tsuu, the Little Mermaid, and Jack—this is the story of girls that spin blood and a boy that became a nightmare in attempts to break free from fate.

■ Characters

Tsuu (voiced by Rika Abe)

A "girl" who is one of the Blood Maiden of Dawn, as well as the protagonist of Mary Skelter 2.

When she was young, she vowed to marry the Little Mermaid in order to become the "Little Mermaid's Prince," and in public acts like a prince as much as possible.

On occassion, she can be timid as expected of a girl her age, but she is honest, has a strong sense of duty, and will act courageously for the sake of her friends.

Everyone usually calls her "Otsuu."

Because she doesn't want to feel the Blood Libido of "returning favors" she usually makes others "indebted" to her to avoid it.

She is the only one able to understand Jack, who turned into a Nightmare.

Little Mermaid (voiced by Aya Suzaki)

An earnest, brave girl who puts the happiness of others above her own.

While she has a gentle way of speaking and a healing presence, she is also strong at her core and occasionally takes daring action.

She is embarrassed now that her instinctive response to Otsuu's proposal when they were young was, "Be my prince," but she truly loves Otsuu, who is doing her best as her prince.

Nightmare Jack (voiced by Koudai Sakai)

A boy who sacrificed his life to save the Little Mermaid.

On the brink of death, he had regrets and lamented his powerlessness. Then a cord appeared, as if guided by his emotions, and trapped him, turning him into a nightmare.

While his intelligence as a Nightmare is infant-level, the kindness in his heart remained, and in battle he plays a support role to the Blood Maidens.

However, Tsuu, who can always understand his intentions, counsels him since he will lose his sanity and run wild if he continues to receive major extrinsic stimuli.

■ Sound

Theme Song

The opening theme song, "Witchcraft «Theophile no Kiseki»" is sung by Earphones, written and composed by J.A. Seazer, and arranged by J.A. Seazer and A_kira.

The ending theme song, "Mirai Dorobou," is sung by Earphones, and written, composed, and arranged by Rui & Rolly.

Update 03/12/18: Background Music Samples

The following background music samples were produced by Zizz Studio:

■ Information

Release Date and Price

Mary Skelter 2 will launch on June 28 in Japan.

The standard edition will cost 7,776 yen, the download edition will cost 6,912 yen, and the limited edition will cost 10,476 yen.

Limited Edition

The limited edition will include the following:

Kei Nanameda-illustrated special box
21-song original soundtrack CD
Special book (featuring artwork and a special contribution by Yomoji Otono)
Bath poster
Multi-desktop calendar, the contents of which will be updated on Twitter after release
Treasured data materials CD-ROM
Original PC and smartphone wallpapers

Pre-Order Bonus

Pre-orders will include an illustration card with a product code to download a love visual novel game called Rengokuto Mary Skelter (Love Prison Tower Mary Skelter). It will be fully voiced, have new newly illustrated character poses and event CG, and exclusive music. There are no plans to release it as a standalone title. Visit the teaser website here.
Watch the teaser trailer and opening movie below. View the first screenshots at the gallery.
Teaser Trailer
Opening Movie
Teaser Trailer and Opening Movie