Level-5 CEO: All future main titles to be released for Switch, Level-5 Vision 2018 set for fall
Akihiro Hino talks to Nikkei Trendy.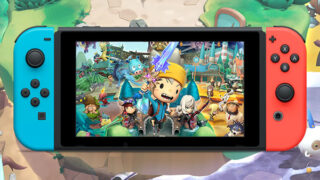 Nikkei Trendy has published a lengthy interview with Level-5 president and CEO Akihiro Hino, who discusses the company's plans for Switch and confirms a Level-5 Vision 2018 event for fall.
Asked how the company plans to support Switch in the future, Hino responded, "Basically, in the future our main titles will all be released on Nintendo Switch. The idea is that what we have created for 3DS will move over to Switch."
Level-5's first Switch title will be The Snack World: Trejarers Gold, which is due out in Japan on April 12. Hino noted that property faced various struggles. For example, the timing of the video game's release date was dicey; the anime progression was rough, and it didn't feel like a year was enough time to prepare. While the toys had the performance to sell really well, Hino feels that if they had developed just a little quicker, they could have rode that boom. "The Switch version due out in April is quite good, so I would like to make another effort," Hino said.
Asked to talk about the 20th anniversary of Level-5 and the company's developments for 2018, Hino said, "First, I want to properly announce a completely new title for the 20th anniversary. At the moment we may be exhausted because of the release rush from last years push-backs, but since it's the culmination showing how hard we've truly worked these past 20 years, I definitely want to do it:"
Hino previously teased that Level-5's 20th anniversary title would be an MMORPG-scale game set in the modern day.
Asked what kind of year 2018 will be for Level-5, Hino said, "This year, I would like to properly thank everyone who worked with us so far, and further strengthen our relationships with those people. Whether business or creative, I would like to deepen our bonds with everyone more than ever before."
Hino continued, "I would like to make clear our standing as a company in the industry during Level-5 Vision 2018, which will be held in the fall. In 2018, in addition to thanking the various companies that have been involved with us, this year will likely be a turning point where we will henceforth properly represent those relationships."
The most recent Level-5 Vision event was held in 2016. If you missed it, you can find all of the announcements in our Level-5 Vision 2016 archive.