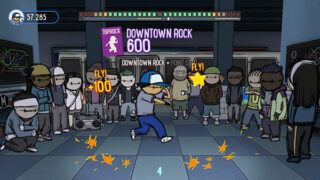 Breakdance game Floor Kids, which is currently available for Switch, is coming to PlayStation 4, Xbox One, and PC via Steam "very soon," publisher MERJ Media announced.
Here is an overview of the game, via MERJ Media:
Floor Kids is a breakdance battle game featuring unique trick style gameplay, rhythm challenges, and multiplayer sessions. Innovative controls allow you the freedom to play the way you like with a dynamic scoring system that rewards your moves based on musicality, originality, and style. Build up your crew of bboys and bgirls, unlocking new characters and locations as you cross the city, busting hundreds of different moves and countless combinations on your journey from the corner to the club.

Floor Kids is an original idea by Montreal-based animator bboy JonJon. The Floor Kids first appeared in a series of short animated films ten years ago, featuring original music by Kid Koala, which were shown online and were incorporated in numerous Kid Koala's live concerts. In 2014, JonJon and Kid Koala joined together with Envision and Hololabs to create a video game based on the Floor Kids characters and universe. You can read more about it's creation on the team's most recent blog posts titled Floor Kids – Origins.
The Switch version of Floor Kids was recently updated to add a fan-requested "Infinity Mode," which allows players to safely practice new moves and combos, and record videos to send to friends.
The new versions of Floor Kids will be playable at PAX East 2018 in Boston from April 5 to 8.