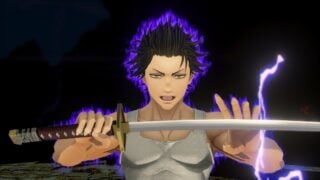 Bandai Namco has released a new trailer for Black Clover: Quartet Knights, introducing the game's "Treasure Hunt" game mode, and screenshots featuring playable character Yami Sukehiro.
Here is an overiew of the mode, as described in the trailer:
Grab the key and open your Treasure Chest! A key will randomly appear on the map – get to it before your opponents! If you are the first to get the key when it appears on the map you get one point, and if you use it to open your Treasure Chest you get three points. The first team to reach five points wins!

Fight for the key and secure the treasure!
Black Clover: Quartet Knights is due out worldwide for PlayStation 4 and PC in 2018. In Japan, it will only be released for PlayStation 4.
Watch the trailer below. View the screenshots at the gallery.