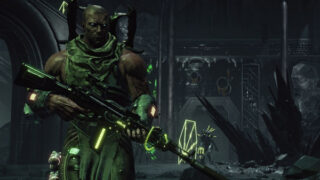 Sold Out and Toadman Interactive will host a closed alpha test for the PC version of its August 2017-announced Immortal: Unchained from March 8 to 12, the companies announced.
The closed alpha test will offer PC players a first look at two locations from the game's world, while experiencing its combat and tactical gunplay for the first time. Players will also be invited to share their feedback with the development team to help refine the game, and are encouraged to share their thoughts and experiences via the game's Steam page and other social media channels.
Users who are interested in participating can sign up at the game's official website.
In addition to the closed alpha announcement, Sold Out and Toadman Interactive also released the first gameplay trailer and a new set of screenshots.
Immortal: Unchained is due out for PlayStation 4, Xbox One, and PC in 2018.
Watch the trailer below. View the screenshots at the gallery.