Chrono Trigger now available for PC via Steam
The classic RPG comes to PC.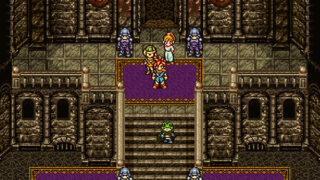 Square Enix has released Chrono Trigger for PC via Steam for $14.99.
The PC version offers the following features:
Two Extra Dungeons – Includes the mysterious "Dimensional Vortex" dungeon and "Lost Sanctum" dungeon that first appeared in the Nintendo DS and mobile releases.
Chrono Trigger Limited Edition – Those that purchase the Steam version until April 2, 2018 will receive the following digital bonuses for free:

An enchanting and specially edited digital song file containing a medley of five songs: "Far Off Promise," "Wind Scene," "Battle with Magus," "Corridors of Time," and "Chrono Trigger."
Composer Yasunori Mitsuda's digital liner notes.
A collection of six stunning PC wallpapers in varying sizes.

Updated Graphics and Sound – While keeping the atmosphere of the original, this version features optimized visuals designed for modern PCs and a re-recorded soundtrack under the supervision of original composer Yasunori Mitsuda.
Updated Controls – Optimized PC experience that supports both controller and mouse/keyboard configuration.
New Autosave Feature – Automatically saves while still featuring the original title's Save Point function.
Square Enix also released a major update for the iOS and Android versions of Chrono Trigger that brings all the enhancements from the PC version to mobile devices. The update includes not only updated graphical and sound enhancements, but also retina and cloud save features, as well as AppleTV support. Chrono Trigger is also available on the Amazon AppStore starting today.
Watch the launch trailer below.