Super Mario Odyssey February update to add 'Balloon World' mini-game, new Snapshot filters and costumes
Luigi makes an appearance.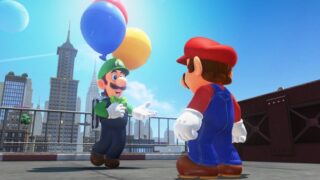 Nintendo will release a free update for Super Mario Odyssey in February that adds a new mini-game called "Balloon World," as well as new Snapshot Mode filters and new outfits, the company announced.
Balloon World will be available to players who have completed the main story. In "Hide It" mode, players have a certain amount of time to hide a balloon. In "Find It" mode, players have the same amount of time to locate balloons hidden by other players from around the world. Players can move up the rankings by finding hidden balloons and becoming expert hiders.
Super Mario Odyssey is available now for Switch.
Watch first footage of the update below (from 6:35 to 7:40). View a new set of screenshots at the gallery.