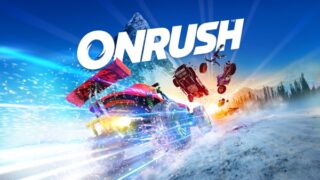 Onrush, the October 2017-announced arcade racing game from ex-Evolution Studios developers, will launch for PlayStation 4 and Xbox One on June 5, publisher Codemasters announced. 
PlayStation Store pre-orders will include early access to a beta in May. A PlayStation 4 Digital Deluxe Edition will also be available and include the following:
A copy of the game
Eight deluxe vehicle designs
Two track tombstones
A deluxe crashtag
Vortex buggy vehicle
Additional PlayStation 4 content: Eight console-exclusive vehicle designs
Details on the Xbox One Digital Deluxe Edition will be announced at a later date.
In addition to the release date, Codemasters shared a new set of screenshots taken using the game's Photo Mode feature. This will enable players to pause the game and snap screenshots mid-race. Photo Mode will feature a 360-degree camera that can be re-positioned to your liking. The camera's shutter speed, zoom, and focus distance can also be freely adjusted, and various filters can be applied.
View the screenshots at the gallery.