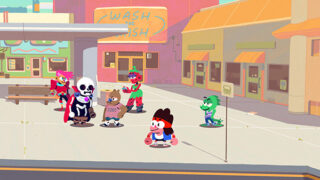 OK K.O.! Let's Play Heroes will launch digitally for PlayStation 4, Xbox One, and PC in the Americas and Europe on January 23, Cartoon Network announced.
A new gameplay trailer of the Capybara Games-developed side-scrolling beat-'em-up action and adventure game sets up the game's original storyline, which was written in collaboration with series creator Ian Jones-Quartey. The story is summarized in the press release as follows: "When the evil Lord Boxman resets the card levels of every hero in Lakewood Plaza Turbo, a mall for heroes, it's up to young K.O. to help his friends, level up special ability POW cards, and brawl down against Boxman's robot army."
Watch the trailer below. View a new set of screenshots at the gallery.