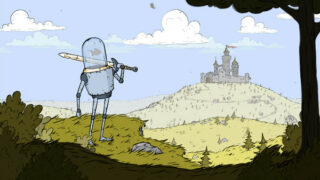 Attu Games, the studio behind Toby: The Secret Mine, has announced Feudal Alloy, a "metroidvania-style action RPG with fishbowl-powered medieval robots" for PlayStation 4, Xbox One, Switch, PC, Mac, and Linux (Steam).
Here is an overview of the game, via Attu Games:
About

Feudal Alloy is a metroidvania-style action RPG with fishbowl-powered medieval robots. Explore an unusual medieval world with a fishbowl-powered robot Attu, improve your combat techniques and skills by smashing many kinds of mechanic creatures and talk to other inhabitants using unique animated branching dialogues in a hand-drawn world made by a two-member team.

Key Features

Attu is an ordinary farmer robot who lives in a small cottage in the sunflower fields. He has been living a simple but pleasant life until a bunch of outlaws attacked the village, stole their oil supplies and burnt his house. Fortunately he managed to grab his old sword and fled into the woods.
Fishbowl-powered medieval robots!
Dynamic action-combat system with swords, grenades, dodges and other special attack moves.
A lot of different equipment that change both player appearance and attributes.
A unique dialogue system – animated bubbles.
A huge, interconnected world to explore, filled with wide range of enemies, bosses and side quests.
Varied hand-drawn environments.
Loot, a lot of loot!
Hidden collectibles.
Secret areas.
Watch the announcement trailer below. Visit the official website here.
https://www.youtube.com/watch?v=H_NG-nQPh8A