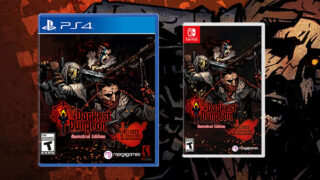 Merge Games has partnered with Red Hook Studios to bring the PlayStation 4 and Switch versions of Darkest Dungeon to retail worldwide in March as Darkest Dungeon: Ancestral Edition. It will cost $29.99 / €29.99 / £24.99 on PlayStation 4 and $39.99 / €39.99 / £34.99 on Switch.
Darkest Dungeon: Ancestral Edition will include the original Darkest Dungeon game in addition to its "The Crimson Court" and "The Shieldbreaker" expansions.
Find an overview of Darkest Dungeon and each expansion below, via Steam.
Darkest Dungeon

Darkest Dungeon is a challenging gothic roguelike turn-based RPG about the psychological stresses of adventuring.

Recruit, train, and lead a team of flawed heroes through twisted forests, forgotten warrens, ruined crypts, and beyond. You'll battle not only unimaginable foes, but stress, famine, disease, and the ever-encroaching dark. Uncover strange mysteries, and pit the heroes against an array of fearsome monsters with an innovative strategic turn-based combat system.

The Affliction System – battle not only monsters, but stress! Contend with paranoia, masochism, fear, irrationality, and a host of gameplay-meaningful quirks!
Striking hand-drawn gothic crowquill art style.
Innovative turn-based combat pits you against a host of diabolical monsters.
Narration system to celebrate your successes…and failures.
16 (and counting!) playable hero classes, including Plague Doctor, Hellion, and even the Leper!
Camp to heal wounds or deliver inspiring speeches.
Rest your weary, shell-shocked characters in town at the Tavern or the Abbey to keep their stress in check.
Classic CRPG and roguelike features, including character permadeath, procedural dungeons, and incredible replay.

Can you stem the tide of eldritch horrors erupting across your family's ancestral estate?

Descend at your peril!

The Crimson Court

Darkest Dungeon: The Crimson Court is the first expansion for the award-winning grim and gothic RPG by Red Hook Studios. Crimson Court is a parallel campaign experienced alongside the main Darkest Dungeon content that will provide you with new challenges and variation at every difficulty level. The narrative grounding sheds some light on the Ancestor's early days, and will be presented in the same style of cut-scenes you've seen elsewhere in the game.

The DLC is designed to be played alongside an existing campaign, or as a brand new one–your choice! The events and features will unlock over the course of play.

Features:

A new hero class. "Awash in blood and delusion, they bear the burden of a thousand lifetimes."
A new dungeon region: The Courtyard.
A full faction of new deadly foes.
5 new Bosses with some of the most complex and devious mechanics yet.
A new wandering boss: The Fanatic.
Districts: 10 new buildings to upgrade your Hamlet.
Massive, sprawling maps with locked doors, prisoner rooms, and progress saves.
Lore-driven trinket sets for all heroes – with set bonuses!

As the Crimson Curse spreads unrelentingly over the estate, parties will battle new enemies in familiar regions, as well as setting foot in a completely new sprawling environment: the Courtyard. There, amidst unique curios, traps and obstacles, a complete faction of new blood-crazed foes lie in wait, overseen by three distinct boss encounters. These slavering enemies and epic encounters will introduce new combat mechanics, testing the limits of your favorite strategies.

As the infestation grows and your roster begins to sicken, the Fanatic will emerge to roam the hallways, confusing friend and foe alike in his zealous quest to exterminate the Curse.

The odds are not completely stacked against you, however! A new playable hero class will be added alongside powerful new trinkets, town events, and a fresh way to expand and upgrade your Hamlet.

The Shieldbreaker

Hailing from the distant windswept dunes of the east, the Shieldbreaker arrives in the Hamlet! Deadly as a viper, her iron will has been forged in the heat of the blazing desert sun. Though outwardly demure, her emancipation from the barren wastes came at a price so terrible, it haunts her dreams even now…

Features:

New hero class: the Shieldbreaker.
Dynamic, tactical skill set for the Shieldbreaker featuring all new combat mechanics including: Armor Piercing, Guard Break, and Stealth.
Shieldbreaker class-specific trinkets, including a set.
3 New Monsters – frightful illusions from the Shieldbreaker's origin, now slithering forward to infest the Estate.
New Consumable Item – Aegis Scale, providing a last bastion of protection for when a hero truly needs it.

The Shieldbreaker is a powerful ally in the fight to reclaim the Estate and banish the evil that squats in the Darkest Dungeon. A highly-tactical hero with solid damage dealing capability, she truly excels when countering monsters with high protection and those who guard their allies. Her movement, speed, and targeted abilities make her a valuable ally for dismantling intractable monster groups. Though relatively low health, the Shieldbreaker is yet highly survivable in short bursts thanks to her Aegis shield.
View a set of screenshots and box art at the gallery.