Dragon Quest Builders for Switch screenshots
Switch version due out in early February.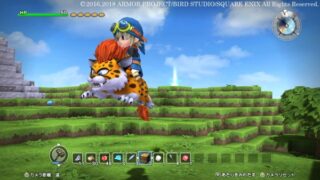 Square Enix has released a new set of screenshots of the Switch version of Dragon Quest Builders.
The Switch version of Dragon Quest Builders will feature exclusive experiences and items, including the ability to gather materials in Free Build Mode while riding the Great Sabrecub, as well as additional crafting options. The Great Sabrecub can attack monsters with its claws, which causes them to drop special materials called "pixels." By obtaining pixels, you can create pixel blocks on a Famicom cartridge-themed workstation that can be used to recreate scenery from the original Dragon Quest for Famicom, including characters and world map terrain.
Dragon Quest Builders will launch for Switch on February 9 in North America and Europe, and March 1 in Japan. In Japan, a demo will be released via the Nintendo eShop on February 1. Dragon Quest Builders is available now worldwide for PlayStation 4 and PS Vita, as well as for PlayStation 3 in Japan.
View the screenshots at the gallery.