Crystal Dynamics adds 15 top industry talents to work on The Avengers project
Former Naughty Dog, Visceral Games, and more.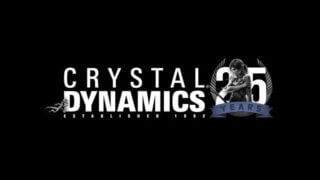 Crystal Dynamics hired 15 "top industry talents" in January to work on The Avengers project, the company announced. This includes former Naughty Dog creative director Shaun Escayg, who joins the project as creative director, and Visceral Games veteran Stephen Barry, who joins as director of production.
Other hires have previously worked on games such as Batman: Arkham Origins, Dead Space, Star Wars Battlefront, and more, come from studios such as Monolith Productions and Sledgehammer Games, and span production leadership, animation, design, art, and engineering.
Find mini-bios of Escayg and Barry below, as well as a comments from Crystal Dynamics co-heads of studio Scot Amos and Ron Rosenberg.
Shaun Escayg

Escayg served as the Creative Director and writer of Uncharted: The Lost Legacy and led the cinematics team as the Director of Photography and Animation Supervisor on The Last of Us. In addition, he worked as an animator at Industrial Light & Magic. "I'm thrilled to join Crystal as Creative Director and be aligned with a team as passionate about telling great character based stories as I am."

Stephen Barry

Barry held multiple positions at Electronic Arts and was formerly the Director of Product Development at Visceral Games, working on several games over his long career including the critically acclaimed Dead Space franchise. "Crystal's been around almost as long as I've been in the business. The immediate chemistry and camaraderie has been exactly what I'd hoped for."

Comment from Scot Amos, Crystal Dynamics Co-Head of Studio

"We're committed to delivering an incredible, completely original Avengers experience to our gamers, and that means we are always looking to add amazing developers to our existing best in class studio talent. As development progresses, our studio continues to grow. The tremendous progress we've made on The Avengers project further drives us toward our goal of crafting something all Marvel fans will be proud of, and will play for years to come. We can't wait to show you what we mean in the future."

Comment from Ron Rosenberg, Crystal Dynamics Co-Head of Studio

"We recently hired fifteen world-renowned industry veterans, spanning production leadership, animation, design, art and engineering, who have previously worked on games such as Batman: Arkham Origins, Dead Space, Star Wars Battlefront, and many more. Their AAA experience adds to an already deep roster, making us well-positioned to deliver on the ambitious goals we've set for ourselves with The Avengers project. It's a stellar addition of many people who fit incredibly well into our wheelhouse of building game experiences we all love."