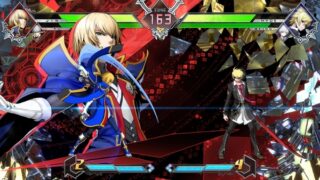 The latest issue of Dengeki PlayStation has an interview with BlazBlue: Cross Tag Battle producer Toshimichi Mori, who discusses the game's reasons for being a home console and PC title versus an arcade title, as well as the price of its 20 downloadable content characters.
Get the notable tidbits below.
If there is support for it, they would like to continue the series.
BlazBlue: Cross Tag Battle is a home console and PC game, as opposed to an arcade game, mainly because they wanted to get rid of any situation where there would be an gap in ability between overseas and Japanese players. (In other words, Japanese players would get it in arcades first, giving them more time to practice.)
The game is being made under the premise of playing with a game pad.
By releasing the main game at a lower cost (5,800 yen for the physical version / 5,370 yen for the digital version), as many people as possible will be able to play, and those that find it interesting can purchase the downloadable content.
It is being set up so that even if you purchase all of the downloadable content, the price will not far exceed what a full game would normally cost.
BlazBlue: Cross Tag Battle is due out for PlayStation 4, Switch, and PC on May 31 in Japan and Asia, and June 5 in North America.
Thanks, Ryokutya2089.