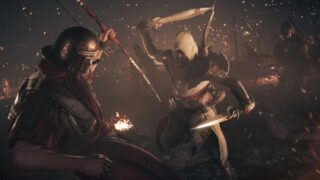 Ubisoft has released the official trailer for Assassin's Creed Origins downloadable content "The Hidden Ones," which launches on January 23.
In "The Hidden Ones," players will explore the new Sinai Peninsula region to investigate a clash between a rebel faction and occupying Roman forces, and shape the Assassin's Creed of the early Brotherhood.
"The Hidden Ones" will be available for $9.99 on its own, and is included with the $39.99 Season Pass.
Assassin's Creed Origins is available now for PlayStation 4, Xbox One, and PC.
Watch the trailer below.