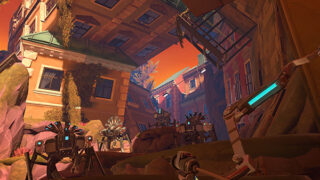 pex Construct, the October 2017-announced virtual reality action-adventure title from Fast Travel Games, will launch for PlayStation VR on February 20, followed by Oculus Rift, HTC Vive, and Windows Mixed Reality on March 20, the deeloper announced.
Here is an overview of the game, including new information, via Fast Travel Games:
Apex Construct is set in a shattered future where merciless robots prowl the world as a result of mankind's reckless experiments. As the last human alive, players will need to explore this world to uncover its secrets while defending themselves from the synthetic creatures, utilizing an upgradable bow, arrow & shield setup. Progressing through the adventure, players will gradually reveal what actually happened to the world they once knew – and what their role is in the drawn out conflict between two powerful AIs.

"One of the stated missions for us at Fast Travel Games is to make VR games that last, and Apex Construct is created to really deliver a lasting experience," Erik Odeldahl, Creative Director, points out. "In addition to completing the main campaign, which should last around five hours and take you to places like pre-apocalyptic research stations, underground caves and parts of an old city, Apex Construct is filled with hidden areas to explore – and the more you explore, the more you understand about the world and the story. We call it 'Exploration Driven Narrative' and believe it really rewards players who take their time with the game."

An integral part of Apex Construct is the 'Safe House' from which any mission can be replayed, allowing players to find items or areas they might have missed when completing a mission the first time. This is also where Radiance Points, gained after killing enemies or finding secrets, can be spent to upgrade the equipment. Erik Odeldahl elaborates: "We created the upgrade system to incentivize exploration, but also to allow players to find their own style of play: Do they spend their Radiance Points to improve the bow, the arrows, or will they embrace a more defensive approach and choose to upgrade the shield? Radiance Points are also used to acquire items like grenades or health drinks, which adds a level of strategic thinking – should players spend them on short or long term gains?"

Fast Travel Games has also presented additional information about the control mechanics in the game, which now feature an option to play using direct movement and smooth rotation. Oskar Burman, CEO and co-founder of Fast Travel Games, explains this decision: "Every player should have a choice to define their own experience. Following our announcement of the game, we have been gathering feedback from VR players across the world. It became clear to us that many players want to be able to move freely in a world as inviting as the one we have created in Apex Construct. In addition to teleportation movement, we are now adding options to play the game with direct movement and smooth rotation, using motion controllers. These options will be available in the game at launch, for all platforms."
If you missed it back in October, watch the announcement trailer below.