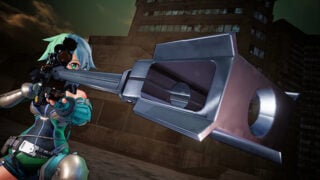 Bandai Namco has released the fifth official trailer for Sword Art Online: Fatal Bullet.
The trailer features the game's theme song, "Thrill, Risk, Heartless," which is sung by LiSA. It also provides a glimpse at the story in addition ArFA-sys functionalities and new areas.
If you missed it earlier this week, read up on the game's original characters, Kirito Mode, Asuna's Clothes Quests, and more here.
Sword Art Online: Fatal Bullet is due out for PlayStation 4, Xbox One, and PC on February 8 in Japan, and February 23 in the Americas and Europe.
Watch the trailer below. View a new set of screenshots at the gallery.
English
Japanese
https://www.youtube.com/watch?v=im2ebQflrpw