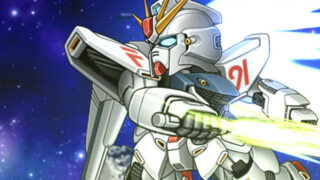 Bandai Namco has released 120-plus screenshots of its recently announced Super Robot Wars X.
The screenshots feature the following robots and pilots, in order:
Robot Cybaster and pilot Masaki Andoh from Super Robot Wars GO Saga: Masou Kishin – The Lord of Elemental

Cybaster – An all-purpose humanoid weapon known as the Elemental Lord of Wind, it is powered by a perpetual motion engine. The pilot's prana is required to increase its power efficiency.
Masaki Andoh – The pilot of Cybaster, he is a hot-blooded young man good at any sport, straightforward, and with an extremely poor sense of direction. Kuro and Shiro are his two cat familiars.

Robot Daitarn 3 and pilot Banjou Haran from The Unchallengable Daitarn 3
Robot Dunbine and pilot Sho Zama from Aura Battler Dunbine
Robot Sirbine and pilot Sho Zama from New Story of Aura Battler Dunbine
Robot Z Gundam and pilot Kamille Bidan from Mobile Suit Zeta Gundam
Robot ZZ Gundam and pilot Judau Ashta from Mobile Suit Gundam ZZ
Robot v Gundam and pilot Amuro Ray from Mobile Suit Gundam: Char's Counterattack
Robot Hi-v Gundam and pilot Amuro Ray from Mobile Suit Gundam: Char's Counterattack – Beltorchika's Children
Robot Gundam F91 and pilot Seabook Arno from Mobile Suit Gundam F91
Robot Crossbone Gundam X-1 Full Cloth and pilot Tobia Arronax from Mobile Suit Crossbone Gundam: The Steel Seven
Robot Wing Gundam Zero and pilot Heero Yuy from Mobile Suit Gundam Wing: Endless Waltz
Robot G-Self (Atmospheric Pack) and pilot Bellri Zenam from Gundam Reconguista in G
Robot Ryuujinmaru and pilot Wataru Ikusabe from Mashin Hero Wataru
Robot Great Mightgaine and pilot Might Senpuuji from Brave Express Mightgaine
Robot Guren S.E.I.T.E.N. Eight Elements pilot Kallen Kouzuki from Code Geass: Lelouch of the Rebellion R2
Robot Luxon and pilot Aoba Watase from Buddy Complex
Robot Villkiss and pilot Angelise Ikaruga Misurugi from Cross Ange: Rondo of Angels and Dragons
Robot Mazinkaiser and pilot Kouji Kabuto from Mazinkaiser
Robot Mazinger Z and pilot Kouji Kabuto from True Mazinger Edition Z: The Impact!
Robot / pilot Mazinger ZERO from True Mazinger ZERO vs. Great General of Darkness
Robot Super Galaxy Gurren Lagann and pilots Simon and Viral from Gurren Lagann / Gurren Lagann the Movie: The Lights in the Sky are Stars
Robot New Nautilus and pilots Nemo and Electra from Nadia: The Secret of Blue Water
Super Robot Wars X is due out for PlayStation 4 and PS Vita in Japan on March 29, 2018, and in Southeast Asia with English subtitles on April 26.
View the screenshots at the gallery.