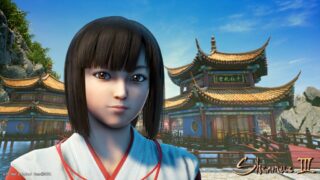 Ys Net has revealed a new character set to appear in Shenmue III, as well as announced that production team Lakshya Digital is lending a hadn with character production.
Regarding the new character, pictured above, Ys Net says, "We gave a first look of this character earlier. You'll have to wait and see how she fits in with the temple in the background."
Here is Ys Net's introduction of Lakshya Digital:
Shenmue III will have a host of new, compelling characters from all walks of life.

And while we can't say just how many, it will be a lot! The game art studio Lakshya Digital will be cooperating with us to bring these great characters to life. Lakshya Digital is based in Gurgaon (one of India's financial and technology hubs) and has studios in Pune and Seattle, where production work for the game is underway.
Shenmue III is due out for PlayStation 4 and PC in the second half of 2018. It will be published both physically and digitally by Deep Silver.