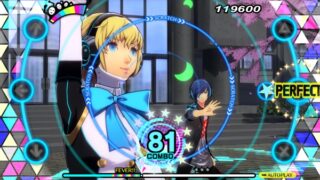 The latest issue of Weekly Famitsu has an interview with Persona 3: Dancing Moon Night and Persona 5: Dancing Star Night producer Kazuhisa Wada, who shares a few new details about each game following their Japanese release date announcement yesterday.
Get the tidbits below.
The games' level of completion is rapidly increasing.
Since they are developing two games at once, producing what is simply twice the content keeps the staff on their toes, but everyone is working as hard as they can.
In order to create even more motions that reflect the individuality of each character than in Persona 4: Dancing All Night, dancers are being assigned for each character.
Partner dances will show relationships through completely different choreography.
You can choose a partner for each Fever.
Unlike Persona 4: Dancing All Night, where the story was set in a different world, the stages this time are set in the familiar worlds of the original works.
Accessories such as hair color and colored contacts can be individually set, and there is a remarkable increase in the variety of combinations.
Downloadable content is planned.
There are lots of fun elements, including a new mode that replaces Story Mode where you can enjoy interactions between characters.
Persona 3: Dancing Moon Night and Persona 5: Dancing Star Night will launch for PlayStation 4 and PS Vita on May 24, 2018 in Japan.
Thanks, Hachima Kikou.