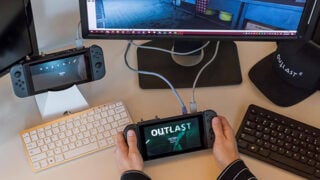 Outlast and Outlast II are coming to Switch in the first quarter of 2018, developer Red Barrels announced. A new title set in the Outlast universe is also in development.
"Currently we're working on something a lot of you have been asking for… It won't be a sequel to Outlast or Outlast II, but it will be a distinct experience set in the Outlast universe," Red Barrels said in an update. "We can't say more right now, we first need to make sure we can make it work. Like I mentioned, we strive to be risk-takers and this one is a pretty big challenge. If all goes well, we'll soon be able to reveal more."
Regarding an Outlast 3, the studio said, "We will, at some point, make an Outlast 3 and answers will be given. You can also check out The Murkoff Account's epilogue. It takes places right after the events of the second game and offers some insight into the events in the game."
Outlast and Outlast II are currently available for PlayStation 4, Xbox One, and PC.