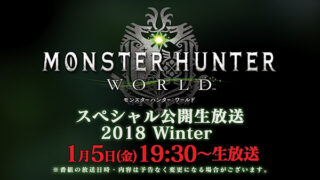 Capcom will host a "Monster Hunter: World Special Public Broadcast Winter 2018″ on January 5, 2018 at 19:30 JST, the company announced. You will be able to watch it on YouTube.
The broadcast will feature the latest live gameplay of Monster Hunter: World, as well as "all sorts of information" ahead of the game's launch later that month. Producer Ryozo Tsujimoto, executive director and art director Kaname Fujioka, and director Yuya Tokuda will be among the presenters.
Monster Hunter: World is due out worldwide for PlayStation 4 and Xbox One on January 26, 2018. A PC version will be released at a later date. In Japan, Monster Hunter: World will only be available for PlayStation 4. A PlayStation 4 open beta is currently running until December 26.