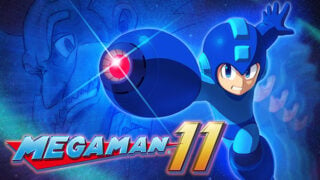 Capcom has announced Mega Man 11 for PlayStation 4, Xbox One, Switch, and PC. it will launch in late 2018.
Here's an overview of the game, via Capcom:
Led by a talented, veteran development team at Capcom, the new game features tight side-scrolling action gameplay the series is known for while completely revolutionizing the experience for modern consoles. Mega Man 11 will be a great entry for both fans and newcomers to the series to dive into as it retains its signature challenge while offering a variety of difficulty options. The game is coming to Nintendo Switch, PlayStation 4 computer entertainment system, Xbox One, and Windows PC in late 2018.

The classic series takes a leap forward in visual presentation in Mega Man 11 with a 2.5D design direction introducing beautiful, completely hand-drawn characters and environments. A freshly redesigned Mega Man takes on Dr. Wily's berserk machines, defeating Robot Master bosses and taking their weapons, in an ever-evolving fight for justice with new and unique enemy designs. This is just a small taste of information of what's to come in Mega Man 11 alongside the start of the series' 30th anniversary year, and fans can look forward to more details on the game in Summer 2018.
More information is due out in summer 2018. For further information ahead of next year, the January 2018 issue of Game Informer will feature Mega Man 11 as its cover story.
Watch the announcement trailer and series 30th anniversary video below. View the first set of screenshots and artwork at the gallery.
Announcement Trailer
30th Anniversary Video