Layton Mystery Detective Agency: Kat's Mystery-Solving Files anime announced for spring 2018
Hershel Layton's daughter returns for television anime.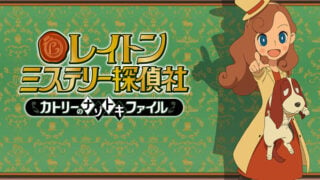 Level-5 has announced Layton Mystery Detective Agency: Kat's Mystery-Solving Files (Layton Mystery Tanteisha: Katori no Nazotoki File), a new TV anime set to air in spring 2018.
Here is an overview of the anime's story:
Any mystery solved, that is the motto of the Layton Detective Agency." Professor Layton's daughter, Katrielle Layton, runs the Layton Detective Agency together with the talking dog Sherl and her assistant Ernest Greeves, and solves the mysterious cases that occur each day in London. Originally, Katrielle started this work with the goal of finding her father, Hershel Layton, who suddenly disappeared, but her mystery-solving gradually became a hot topic due to its unexpected concept, leading various requests to come flying in.
And here is the staff:
Creative Director / Original Draft and Series Organizer: Akihiro Hino
Original Work: Level-5
Animation Production: Liden Films (The Heroic Legend of Arslan series)
Supervision: Susumu Mitsunaka (Haikyuu!! series)
Character Design Original Drafts: Takuzou Nagano
Character Design: Utako Takada
According to the official website, Katrielle Layton is voiced by Kana Hanazawa. In Layton's Mystery Journey: Katrielle and The Millionaires' Conspiracy, the latest entry in the Layton game series (which is available now worldwide for 3DS, iOS, and Android), Katrielle was voiced by Kasumi Arimura.