Gungrave G.O.R.E. in development for PS4
New title being developed on the latest Unreal Engine.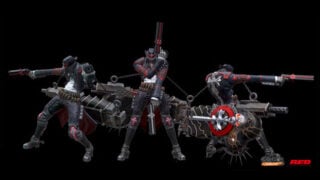 Iggymob, the development team behind Gungrave VR, is currently developing the next entry in the Gungrave saga with Gungrave G.O.R.E. for PlayStation 4, Gungrave VR development boss Jun Pd told Famitsu.
"In [Gungrave VR], we are depicting a story that acts as a prequel to the PlayStation 4 game Gungrave G.O.R.E., which is currently in development," Jun told Famitsu.
Business director Kay Kim later added, "The curtain will open on the rebirth of Gungrave starting with Gungrave VR, and continue towards G.O.R.E. The overall scale is difficult to convey at this point. But for G.O.R.E., we want to deliver on a greater scale and level of quality than Gungrave VR, so we are developing on the latest Unreal Engine. We are aiming for a scale that compares favorably to higher level games, but I think that the most important thing is, 'How can we create a title that receives the consent and sympathy of existing fans?' I want to make more and more effort, and pursue the understanding and expression of the Gungrave setting."
Gungrave VR launched for PlayStation VR via the PlayStation Store today in Japan and is due out in western territories in early 2018.