The Forest for PS4 launches in 2018
New cooperative multiplayer trailer released.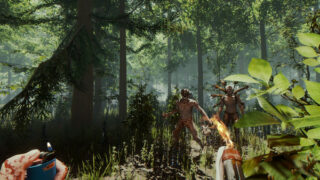 The PlayStation 4 version of The Forest, which was first announced in 2014, will launch in 2018, developer Endnight Games announced.
In The Forest, players will build a camp (or a large oceanside fortress), craft weapons from sticks and stones, and fight to stay alive against a vicious enemy force. It is playable in both single-player and cooperative multiplayer with friends.
The Forest is currently available for PC via Steam as an Early Access title.
Watch a new trailer for the PlayStation 4 version, which highlights the cooperative multiplaye mode, below.