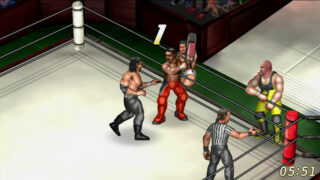 The PC version of Fire Pro Wrestling World has left Steam Early Access and is now available at a launch commemoration price of $13.39 / 1,447 yen until January 4, 2018, publisher Spike Chunsoft announced. After that, the price will revert to $19.99 / 2,160 yen.
The press release notes that, "With the PC (Steam) version being complete, development on the PlayStation 4 version will now move forward at full speed. Please look forward to more news."
The launch of the PC version also brings with it the version 1.0 update. Get the full list of changes below.
Offline

Fixed bug in Leagues/Tournaments where victory/loss would sometimes not register properly.
Fixed bug in Leagues where result screen would show the winning wrestler with the name "No Entry" and fail to display their graphic.
Fixed bug in League Mode where the correct wrestlers would sometimes not proceed to the finals.
Fixed bug in League Mode where, in a title match, the challenger would sometimes not receive the belt if they won.
Fixed bug in League Mode where sometimes the winner of a finals match would not be recorded, forcing you to replay the match.
Fixed bug in League Mode where sometimes a finals block would repeat until a wrestler beat everyone else consecutively.
League matches now proceed in a more even distribution between wrestlers. (Previously, there was a tendency for a single wrestler to perform all their matches before other wrestlers.)

Edit Mode

Added "Overwrite" option to Edit Wrestler load menu.
Face part scale arrows now scale at 1% per click. (Previously 2%.)
Added 2 more Priority Attack slots to CPU logic. (12 total)
Fixed bug preventing certain renamed moves from displaying properly.

Online

Added support for four player matches.

Matches

Match-specific Match Evaluation criteria implemented for Deathmatches, SWA Rules Match and S-1 Rules Match.

Parts

The following edit parts were added:

Face

Base Part 698 – Anime female (Normal)
Base Part 699 – Anime female (Normal) > Separated
Base Part 700 – Anime female (Cool)
Base Part 701 – Anime female (Cool) > Separated
Base Part 702 – Anime female (Adult)
Base Part 703 – Anime female (Adult) > Separated
Sub Part 699 (1) – Anime female (Normal) > Eyelashes/eyebrows/pupils
Sub Part 699 (2) – Anime female (Normal) > Eyeball and eye highlights
Sub Part 699 (3) – Anime female (Normal) > Lipstick
Sub Part 701 (1) – Anime female (Cool) > Eyelashes/eyebrows/pupils
Sub Part 701 (2) – Anime female (Cool) > Eyeball and eye highlights
Sub Part 701 (3) – Anime female (Cool) > Lipstick
Sub Part 703 (1) – Anime female (Adult) > Eyelashes/eyebrows/pupils
Sub Part 703 (2) – Anime female (Adult) > Eyeball and eye highlights
Sub Part 703 (3) – Anime female (Adult) > Lipstick

Moves

The following moves were added:

Standing (BIG) > Fierce Low Kick
Counter > Toe Kick B
Jump From Post > Double Rotation Moonsault
Front Grapple (SML) > Toe Kick B
Front Grapple (MED) > Short Elbow B
Front Grapple (MED) > Jawbreaker B
Front Grapple (BIG) > Screw Neckbreaker Drop B
Back Grapple (BIG) > Turning Two-Step Knee Kick
Back Grapple (BIG) > Full Nelson
Opponent Down – Facing Up, Near Head > Running Middle Kick
Double Team – Corner Grapple > Double Impact
Voice now plays for Counter > Pop-up Jumping Bomb.
Changed category for Corner Grapple > Kinniku Buster to [Rear Blow to Head]