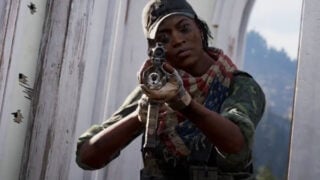 Ubisoft has released a new trailer for Far Cry 5 dubbed "The Resistance," and several outlets have gone up with new gameplay videos.
The trailer introduces how the world of Far Cry 5 reacts to your activities as you fight alongside your local allies, the Guns & Fangs for Hire, to take back Hope County.
Far Cry 5 is due out for PlayStation 4, Xbox One, and PC on March 27, 2018.
Watch the trailer and gameplay videos below.
The Resistance Trailer
Gameplay Videos
Game Informer
GameSpot
IGN
PlayStation Blog
Polygon