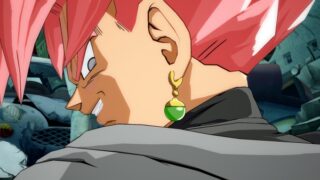 An open beta for Dragon Ball FighterZ will be held from January 14 at 12:00 a.m. PT / 3:00 a.m. ET / 9:00 a.m CET to January 16 at the same time, with users who pre-order the game gaining early access on January 13, Bandai Namco announced.
The company also released the fourth trailer and new screenshots for the game, which features newly announced fighters Goku Black, Beerus, and Hit.
Additionally, the game's official Japanese Twitter account (2, 3) has provided official information on the characters.
Goku Black

Goku Black will receive assistance from Zamasu, such as holding down the opponent when firing a "Kamehameha." Using his giant scythe and hand-blade, Goku Black can attack from a distance with long reach, never giving his opponent a chance to retaliate.

Beerus

Beerus is the God of Destruction of Universe 7. He restrains his opponent while using "Spheres of Destruction" that explode upon touch, all the while gradually cornering his opponent with what is not even the full extent of his God powers.

Hit

Hit uses his "Time-Skip/Molotov" technique to attack as if he is warping. He also uses technical skills, such as automatically counter-attacking when attacked in a defensive stance, to drive into his opponent with ultra high speed attacks.
Official details were also shared on the game's "dramatic cutscenes" and "Shenron System":
Dramatic Cutscenes

Dragon Ball FighterZ will also present special dramatic cinematic cutscenes from numerous points in DRAGON BALL history – such as the first time Goku took-on his Super Saiyan form – when certain team character combinations are chosen or specific finishing moves are performed.

Shenron System

With the "Shenron System," players who string a specific number of combos during battle will collect Dragon Balls on-screen. Once all the Dragon Balls have been collected, Shenron will appear to grant the player one of four wishes:

1. Restore my health: Restore your character to its full health (the one that you're controlling)
2. Bring back my ally: Revive your lost ally to 50% health
3. Give me the ultimate power: Boost your Ki gauge to MAX
4. Make me immortal: Health will be 50% restored, and auto-restoration for energy gauge.
Dragon Ball FighterZ will launch for PlayStation 4, Xbox One, and PC on January 26 in the Americas and Europe, and February 1 in Japan.
Watch the trailer below. View the screenshots at the gallery.