PlayerUnknown's Battlegrounds studio announces steampunk fantasy MMORPG Ascent: Infinite Realm
Kakao Games to publish new MMORPG in western territories.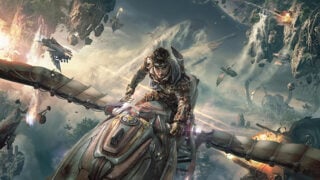 Kakao Games has announced that it will publish the new massively multiplayer online RPG Ascent: Infinite Realm, developed by PlayerUnknown's Battlegrounds and Tera studio Bluehole, in western territories. The game will be localized in English, German, and French.
Ascent: Infinite Realm is described as combination of a steampunk setting with high fantasy magical elements. It also features "Realm vs. Realm" aerial combat that pits magic ships against each other.
Here's an overview of the game, via Kakao Games:
■ About Ascent: Infinite Realm

Ascent: Infinite Realm takes place in a high fantasy steampunk world where machines and magic rule and everyone is dependent on flight to explore, travel, and conquer. In search of a new home, adventurers take to the skies using a wide selection of airships, vehicles, and flying mounts to traverse Ascent: Infinite Realm's open, highly vertical world.

Realm vs. Realm Combat

Vehicles and mounts in Ascent: Infinite Realm serve more than just the purpose of transportation; they will also provide adventurers with the ultimate battle experience: Ascent: Infinite Realm's Realm vs. Realm PvP mode. In RvR, factions fight for fame and glory, taking turns to lead offensive and defensive efforts using all kinds of fantastical flying vehicles. Players can also join the fight from the ground with mechs and the use of anti-air artillery to fight airborne threats―or initiate ground based aerial attacks depending on the map and strategy. Various strategic weapons such as cannons, mines and attack buffs are at each faction's disposal to tip the balance in their favour. The combination of ground-based and aerial combat makes each fight strategically challenging and dynamic.

Keeping it Personalized

Most of Ascent: Infinite Realm's content is highly customizable, allowing players to tailor detailed aspects of their play experience and unleash their creativity. An airship, for instance, can have its type, appearance, color, and performance modified. Players can even create their own quests, alter their hunting grounds, and change the difficulty when battling monsters in dungeons or hunting areas.

■ Key Features

Explore a beautifully designed high fantasy steampunk world.
Discover a fusion of classic MMORPG elements with multi-dimensional gameplay encompassing both land and sky.
Choose from five fully customizable classes.
Conquer the skies with Ascent: Infinite Realm's Realm vs. Realm mode and experience massive aerial battles.
Ascent: Infinite Realm will be playable at G-Star 2017 from November 16 to 19. A beta will be held in the first half of of 2018.
Watch the debut trailer below. Visit the official website here.