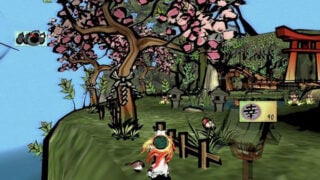 Capcom has released a new set of gameplay videos for the PlayStation 4, Xbox One, and PC versions of Okami HD.
Additionally, Capcom released four videos showcasing the PlayStation 4 custom themes included with the game depending on which edition of Okami HD you purchase and where you purchase it:
Okami HD is due out for PlayStation 4, Xbox One, and PC on December 12 in North America and Europe. In Japan, the PC version will launch on December 13, and the PlayStation 4 and Xbox One versions will launch on December 21.
Read more about the game here.
Watch the videos below. View a new set of screenshots at the gallery.
Celestial Brush: Cherry Blossoms
Celestial Brush: Rejuvenation
Demon Introduction No. 1