Little Witch Academia: Chamber of Time version 1.01 update detailed
Adds Gallery feature and more.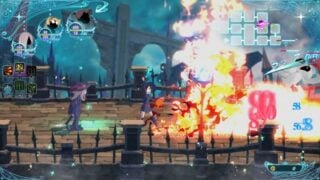 Bandai Namco has detailed the version 1.01 update for Little Witch Academia: Chamber of Time, which will launch soon after the game releases in Japan.
Here are the patch notes:
Main Additions

Addition of a Gallery Feature – Adds a Gallery feature that allows you to view the movies and animations that you have already seen during the game at any time. It is recommended for those who want to look back on the movies another time.
Addition of a Feature that Specifies the Locations Sub-Quests Occur on the Map – Adds a feature that specifies the locations sub-quests occur on the map so you know where to look.

Main Adjustments

Addition of test voice playback in the voice settings of the options menu.
Adjustments to support character behavior.
Adjustments to the volume of some background music.
Adjustments to abilities during battle parts.
Adjustments to items dropped in dungeons.
Adjustments to entirety of sub-quest actions and display.
Little Witch Academia: Chamber of Time is due out for PlayStation 4 in Japan on November 30, and for PlayStation 4 and PC in North America and Europe in early 2018.