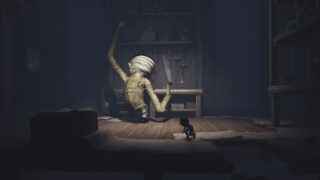 The second downloadable content for Little Nightmares part of its "Secrets of the Maw" expansion pass, "The Hideaway," is now available for PlayStation 4, Xbox One, and PC, Bandai Namco announced.
"Secrets of the Maw" tells the escape story of the "Runaway Kid," which runs parallel to the story of the main game. In the second chapter, the Runaway Kid will have to find and rescue the Nomes to escape. These creatures have a secret, but will they be able to help the Runaway Kid overcome all of his obstacles? The second chapter has more complex puzzle mechanics that require players to work with the Nomes and a hub-like layout that enables greater freedom of exploration.
The third and final downloadable content for Little Nightmares, which is still to be titled, will launch on February 10, 2018.
Outside of the downloadable content, Bandai Namco also announced that a demo for Little Nightmares is now available on the PlayStation Store and Xbox Live.
Watch the "Hideaway" launch trailer below. View a set of screenshots at the gallery.