Injustice 2 for PC launches November 14, open beta now available
Test the PC network code and infrastructure.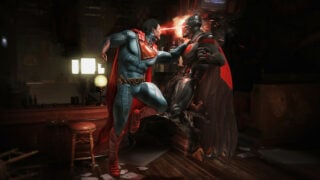 The PC version of Injustice 2 will launch via Steam and the Microsoft Store on November 14, Warner Bros. and NetherRealm Studios announced.
The open beta, previously planned for October 25, began today on Steam.
Here's an overview of the beta:
Welcome to the Injustice 2 PC Open Beta which you can play for free! In order to test the Injustice 2 PC network code and infrastructure, we invite you to download and participate in this beta for a limited time. Note that only one-versus-one Multiplayer mode is available.

When the full game is released, you can expect the following features:

Every Battle Defines You: With every match you'll earn gear to equip, customize and evolve your roster.
A New Threat Arises: Picking up where Injustice left off, Batman struggles against Superman's regime, as a new threat appears that will put Earth's very existence at risk.
The Best of DC: Choose from the biggest DC Universe roster ever and battle across iconic locations in epic scale battles.
Built by NetherRealm and Adapted by QLOC for PC: Developers of the best-selling and critically acclaimed

Mortal Kombat

 franchise.
Injustice 2 is available now for PlayStation 4 and Xbox One.