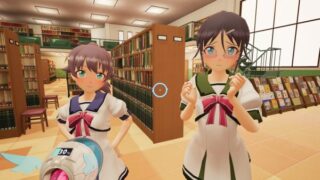 Inti Creates has released the debut trailer, details, and screenshots for Gal Gun 2.
Get the information below.
■ What is Gal Gun?

The Gal Gun series revolves around an "unlucky" young man who accidentally becomes supernaturally popular with girls. His mission: find his one true love! However, the girls at at academy all want their chance too, and will do whatever they can to express their love! He must use his new weapon, the Pheromone Shot, to fend off their advances by giving them euphoria!

A brand new story with new cutie pies to meet!

The story of Gal Gun 2 kicks off with the demon-hunting angel Risu, and she's in a really tough spot. Making things even more complicated for our protagonist are two new heroines: the "girl next door" Chiru, who happens to be a total shut-in, and your childhood friend and classmate Nanako.

Prologue

The protagonist (you) is an extremely normal high school student. One day, you notice an app that you don't remember installing appear on your smartphone.

When you tap the app, a cardboard box appears before your very eyes. Inside is a suspicious pair of goggles and gadget…. When you put on the goggles, an angel appears in front of you and says…

"You have been chosen. Let's exterminate demons together, you and I."

You decide to work together with the angel Risu to exterminate the demon Kurona, whose pranks at school know no bounds.

Over 70 Girls will appear!

In Gal Gun 2, more than 70 female characters will appear, including the students and teachers of Sakurazaki Academy where the game is set. And they will even be fully voiced!

Main heroines include:

Risu (voiced by Chisa Kimura)
Chiru Kondou (voiced by Risae Matsuda)
Nanako Tamamae (voiced by Yuna Taniguchi)
Kurona (voiced by Aya Fujita)
Shinobu Kamizono (voiced by Emi Uema)
Maya Kamizono (voiced by Chinami Hashimoto)

Regular students will be voiced by various talents, including:

Nana Inoue
Saori Oonishi
Ari Ozawa
Rena Ozawa
Hanako Omine
Yuuna Kamakura
Haruna Kawai
Yuuko Kurose
Kana Kobayashi
Sayaka Gomi
Hekiru Shiina
Aya Suzaki
Akiho Suzumoto
You Taichi
Asuna Tomori
Miyu Tomura
Aiko Ninomiya
Mayuka Nomura
Shouko Hakugawa
Anzu Haruno
Mayu Harumiya
Nana Harumura
Momo Higuchi
Kei Hiraishi
Saki Fujita
Airi Fujiwara
Muta Minami
Shouko Yatabe
Sayuri Yahagi
Mizuki Yuina
Kana Yuuki
Asumi Yoneyama

And many more!

Give the girls euphoria!

In Gal Gun 2, girls will approach you from all angles (360 degrees)! If you lose focus, you'll be surrounded and knocked down in the blink of an eye, so use your pheromone shot to give them euphoria!

Suck up pesky demons with your trust new "Demon Sweeper" sidearm!

Debuting in Gal Gun VR, the demon (Mini Kurona)-vacuuming gadget, "Demon Sweeper," is back! Separate demons from the girls they're possessing with a well-placed pheromone shot, then suck them up for bonus points! The wind produced by the Demon Sweeper may even blow up the girls' skirts!? By collecting demon repeal points, you can receive new requests and progress the story with the heroine.

Master the art of undressing euphoria!

By strengthening the Demon Sweeper, you will be able to vaccum demons even faster. Additionally, by holding the vaccum button for more than a certain period of time, the Demon Sweeper will switch to the more powerful "Hyper Vaccum Mode."

Hyper Vaccum Mode "unintentionally" vaccums not only the demons, but also the girls' clothes. The girls in their underwear will become embarassed and completely euphoric.

Fully loaded with even more new features!

In addition to all of this, information shooting parts called "defensive battles," "Doki Doki Mode," and a variety of new elements will be shared in a follow-up report.

■ Characters

Risu (voiced by Chisa Kimura)

A new hire at Heaven's Angel Ring Company… but for everything she does she continues to fail, and is thus on the verge of unemployment. Although she imagines herself to be the level-headed big sister-type, she really isn't.

She is serious, but clumsy and liked by many. She is a kind angel who places no doubt in others. In Gal Gun 2, she half-forcefully asks the protagonist to take on the task of exterminating demons.

Chiru Kondou (voiced by Risae Matsuda)

The protagonist's neighbor who lives in a former small candy shop. She is a first year student at Sakurazaki Academy, but decides not to go to school. She loves candy and old games, and is good at messing with mechanical things.

She has a slightly cheeky attitude towards the protagonist, but is extraordinarily weak when it comes to other people.

Nanako Tamamae (voiced by Yuna Taniguchi)

The protagonist's easy-going childhood friend, who sits next to him at school and moves at her own pace. Currently, the two are living together with her mother. She and the protagonist have a family-like, brother-sister relationship.

The miracle of them being seated next to each other every time for the last few years continues this year.

Kurona (voiced by Aya Fujita)

A third year student at the Demon Academy middle school. She is a weak-headed luck-pusher and troublemaker. She is planning to leave her mark on the Demon Academy by pulling big pranks.

Since she is a prodigy when it comes to magical power, she is not bound by the common knowledge of standard demons. She ends her sentences with the word "Death."

■ Gal Gun 2 TV

Inti Creates will host Gal Gun 2 TV #01 on November 29 from 21:00 to 22:00 JST. The broadcast will feature an introduction to the sequel with MC Yuna Taniguchi (Nanako Tamamae voice actress), and guests Emi Uema (Shinobu Kamizono voice actress) and Aya Fujita (Kurona voice actress). You'll be able to watch it live on YouTube, Niconico, and Fresh.
Gal Gun 2 is due out for PlayStation 4 and Switch in Japan on March 15, 2018. A western release is also planned, but has yet to receive a release date.
Watch the trailer below. View the screenshots at the gallery.