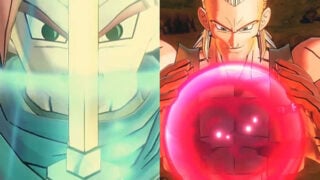 Bandai Namco has shared further information on the new content coming to Dragon Ball Xenoverse 2.
Get the details below.
Hero Colosseum

The new game mode, "Hero Colosseum," will be available this fall as a free update for all Dragon Ball Xenoverse 2 versions. This new game within the game will have its own story mode where players will experience a tactical figurine battle gameplay.

Extra Packs

New content will also be available with the paid Extra Pack 1 and Extra Pack 2. Both of them will offer new characters and gameplay features:

Extra Pack 1 will be available in fall 2017 will include four new characters: Tapion, Android 13, Dabra, and Majin Buu (Gohan Absorbed).
Extra Pack 2 will contain an original new character, a new scenario, and a new way to interact with Dragon Ball characters. On top of that, players may also discover an all new form Goku in the Extra Pack 2. More details will be revealed later, stay tuned!

Dragon Ball FighterZ Collaboration

Special items will be given for those who own both Dragon Ball Xenoverse 2 and Dragon Ball FighterZ.
Watch the first gameplay of Android 13 and Tapion below.