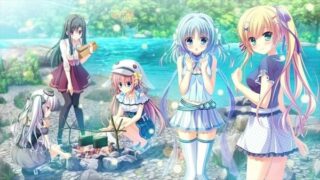 Entergram is bringing the Circus-developed visual novel D.S. -Dal Segno- to PlayStation 4 and PS Vita in Japan on March 22, 2018, several new Amazon Japan listings reveal.
The game will be available in standard and "Full Production" limited editions. The latter will include a tapestry and set of five mini colored papers. First-print copies of both editions will include a product code to download an original PlayStation 4 or PS Vita theme.
Here's an overview of the game's story, via Manga Gamer:
Kazana Island… A cozy, cool paradise where summer never ends.

The protagonist finds himself stepping foot into this island paradise as a transfer student, greeted by a mysteriously glittering sky, as well as the energetic island caretaker Ame, a girl-type AI.

After a bit of a rocky start, he settles at the dorms where a handful of new female friendships await.

She's a tomboyish beauty, but a bit of a loner: Himari Asamiya.

The manifestation of brains and beauty, and also student leader: Hazuki Murasaki.

The self-proclaimed "Daughter of Darkness", with a normal side too: Io Kouzuki.

Always trying to act the grown-up, but still a tease (your cousin): Noeri Fujishiro.

And the girl who embraces her role of making everyone happy: Ame.

How will you sculpt your everlasting happiness here in paradise?

A new love is about to begin…
D.S. -Dal Segno- is available now in English for PC via Steam and the Manga Gamer Store.