The Caligula Effect: Overdose announced for PS4
An Unreal Engine 4 remake of The Caligula Effect.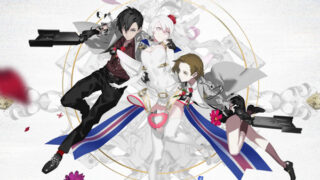 FuRyu has announced The Caligula Effect: Overdose, an Unreal Engine 4-based remake of The Caligula Effect for PlayStation 4. It will launch on May 17, 2018 in Japan for 7,980 yen.
The Caligula Effect: Overdose features drastically upgraded direction, visuals, and processing, a "Forbidden Musician Route" about two times the volume of the scenario, multiple endings, new Go-Home Club members, new musicians, and new songs.
Here's the full overview:
The Caligula Effect Reborn on PlayStation 4 and Unreal Engine 4

The UI has been completely remade, usability has improved, and the game can be enjoyed more comfortably.

Twice the Scenario Volume: Forbidden Musician Route Added and Multiple Endings

Step into the secrets of the musicians with the Musician Route. What is the price of betrayal…?

Despite being the president of the Go-Home Club, you can experience the double life of a musician belonging to the opposing organization. In the Musician Route, you can form a party of musicians and hold your own against the Go-Home Club, and unlock character scenarios that delve deep into the musicians. The volume of the scenario is more than twice the scenario of the previous game. What is the ending that the player will reach with μ…?

A Female Protagonist Added

The development of the story and the reaction of the people around you will change depending on your gender. The female protagonist is voiced by Miyuki Sawashiro.

Two New Go-Home Club Members Added

Ayana Amamoto (voiced by Maria Naganawa) and Eijin Biwasaka (voiced by Kenji Akabane).

Two New Musicians Added

Kuchinashi (composed by Pinocchio-P, voiced by ???) and Stork (composed by DECO*27, voiced by ???).

As character composers for two characters with intense personalities, the talented DECO*27 and Pinocchio-P will write new music. In addition to this, it is also possible that there are hidden musicians and composers…

Pre-Orders

Pre-orders will include the following four bonuses:

The Caligula Effect: Overdose Special Album CD – A special album with 10 newly added songs in addition to the theme song.
Special Booklet – A booklet featuring interviews with the composers, a short story, and more.
"Plain Clothes" Costume DLC – A download code to obtain the plain clothes for all Go-Home Club members. (There are no plans to sell this as paid downloadable content.)
Special Event Participation Application Ticket – An application ticket to participate in a special event that will be held after the game releases. Reina Ueda, Chiharu Sawashiro, Shunsuke Takeuchi, Mirei Tanaka, Emi Nitta, Soma Saito, Yuka Otsubo, and more are planned to appear.
Watch the announcement trailer below. View the first set of screenshots at the gallery. Visit the official website here.