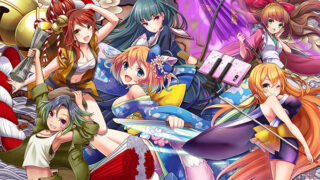 NIS America has released a new trailer for Tokyo Tattoo Girls introducing the six companions players are able to choose from in the game.
The six companions introduced include:
Karin Tama – Home: Hello Land. A free-spirited daddy's girl who loves cute and fluffy things. Type: Balanced. An all-rounder who's good at everything.
Mai Tachikawa – Home: Tachikawa Velodrome. A tomboy who likes to gamble and dreams of getting rich quick. Type: Balanced. Increases PM earned.
Akika Machida – Home: Machida Squirrel Garden Cafe. A spiritual, but somewhat airheaded girl. Always carries her umbrella. Type: Defense. Good at invasions.
Kayako Musashino – Home: Fujitsuki Women's Academy Student Council Room. A proper lady who leads a pure and good life. Values rules and order. Type: Offense. Good at recruiting enemy clanswomen.
Chizuri Hachioji – Home: Mount Takao. A reliable, caring girl who loves festivals and wears her heart on her sleeve Type: Defense: Early-game advantage.
Chocho Chofu – Home: Nikkatsu Studio. An attention-loving girl who wants to be an actress. Loves classic films. Type: Special. Take advantage of chance encounters.
Read more about the game here.
Tokyo Tattoo Girls is due out physically and digitally for PS Vita and for PC via Steam on November 14 in North America and November 17 in Europe.
Watch the trailer below.