Rocket League for Switch launches November 14
Cross-play with Xbox One and PC supported.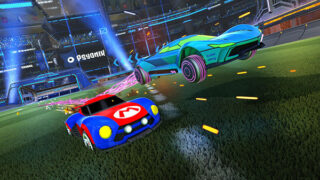 The Switch version of Rocket League will launch on November 14 for $19.99, developer Psyonix announced.
Rocket League for Switch will support all of the the system's various play modes, including wireless local multiplayer. The Switch-exclusive Battle-Cars "Mario NSR," "Luigi NSR," and "Samus Gunship" will also be available.
The Switch version will also have all the content, features, and modes available in other versions of the game, along with support for cross-platform play with Xbox One and PC.
Watch a new Rocket League gameplay demo and Psyonix studio tour with the Nintendo Minute crew below.