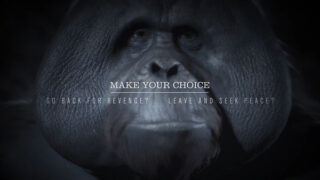 Imaginati Studios and FoxNext Games have released a new trailer for its August-announced Planet of the Apes: Last Frontier titled "Episode Two: Clarence's Perspective."
Here's an overview of the clip:
Meet Clarence, confidant to Khan. After fleeing battle and his wife being killed by a soldier, Khan needs guidance. What should Clarence tell the apes to do: Go Back For Revenge or Leave And Seek Peace? How Will You Lead?
If you missed it last week, catch the "Khan's Decision" trailer here.
The upcoming Planet of the Apes game is a "narrative adventure game of conquest, betrayal, and survival," where the "morally and ethically challenging choices" players make will influence how the story plays out for both the apes and humans.
Planet of the Apes: Last Frontier is due out this fall for PlayStation 4, and later for Xbox One and PC.
Watch the trailer below.
https://www.youtube.com/watch?v=xuja7CWmKj0