Nioh: Complete Edition coming to PC via Steam on November 7
Includes main game and all three downloadable expansions.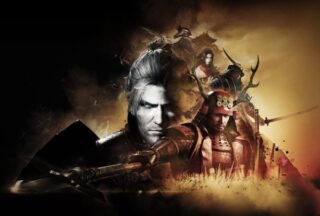 Nioh is coming to PC via Steam on November 7 as Nioh: Complte Edition, Koei Tecmo announced.
The PC version will include the original version of Nioh and all three downloadable expansions: "Dragon of the North, "Defiant Honor," and "Bloodshed's End."
The digital-only PC version includes high-resolution graphics that can be enjoyed in either "Action Mode," which runs at a stable 60 frames per second, or "Movie Mode," a cinematic option that can expand the display to 4K resolution.
A brand new item called the "Dharmachakra Kabuto" helmet will also be featured. Here's it's description:
The Wheel of Dharma kabuto is a form of "kawari-kabuto"—a family of helmets featuring fantastical designs. This helmet features a red-lacquered front crest of an ancient Buddhist symbol depicting the eightfold path to nirvana. This holy image represents spiritual enlightenment attained by casting off one's worldly desires, and also holds the power to banish evil. However, some claim this is not a Wheel of Dharma at all, merely a replica that looks as though it belongs on a device to regulate steam… Some have gone so far as to suggest renaming it to "Valve Kabuto," but why anyone would make a helmet featuring a valve is unclear…
Here's a full overview of Nioh: Complete Edition, via Koei Tecmo:
Nioh: Complete Edition is a dark, fantasy action RPG, which challenges players to traverse war-torn Japan as a blonde-haired swordsman whose background as a fierce warrior and seasoned knowledge of the blade allows him to survive in the demon-plagued land of the samurai.

Blending a compelling narrative loosely based on the tale of the English navigation officer who served Ieyasu Tokugawa, William Adams, with a myriad of strange supernatural creatures from Japanese folklore (Yokai), players of Nioh: Complete Edition will discover a diverse and comprehensive world dripping with history and lore, and face off against other samurai in epic sword battles and intense, multi-target engagements.

Offering a level of difficulty that will truly test even the most hardened samurai's skills, patience, and strategy, Nioh: Complete Edition, includes all three Nioh DLC expansions. In contrast to the PlayStation®4 version, all seven weapon types, ninjutsu and onmyo magics will be available to players from the beginning, while finishing the core game will also unlock features like the Dual Guardian Spirit.

The 'Dragon of the North' DLC follows on from William's valiant struggle in the main game, opening up the region of Oshu and introducing terrifying new enemies, weapons, armour, ninja skills, magic and Guardian Spirits.

'Defiant Honor' moves the narrative to the Osaka region and focuses on one of the defining battles of late Sengoku era introducing new key characters, weapons, equipment, enemies, Guardian Spirits, an even more challenging difficulty level and new trophies.

Finally, 'Bloodshed's End' adds a further three main missions, nine side quests and a twilight mission concluding William's journey.

Finishing the core game of Nioh: Complete Edition incrementally unlocks access to the deeper levels of the game's ultimate challenge: The Abyss. This ethereal world, made up of innumerable floors, punishingly difficult boss enemies, and considerable risks, is so challenging that players are even allowed to summon up to two other visitors to overcome the dangers that lurk therein!
Koei Tecmo did not announce a PlayStation 4 version of Nioh: Complete Edition for the west, but in Japan, Nioh: Complete Edition will launch digitally for PlayStation 4 on November 7 and physically on December 7.
View a set of artworks at the gallery.