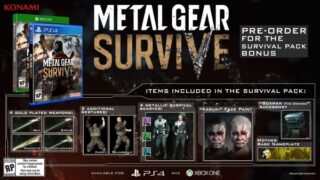 Metal Gear Survive will launch for PlayStation 4, Xbox One, and PC on February 20, 2018 in North America, February 21 in Japan, and February 22 in Europe, Konami announced. It will cost $39.99 / £34.99 / €39.99.
Users who pre-order the game will receive a downloadable "Survival Pack," which includes the following items:
Four Gold Plated Weapons – Bat, Spear, Machete, and Sledgehammer
Two Additional Gestures – Happy and Thumbs Up
Four Metallic Survival Scarves – Purple, Green, Blue, and Silver
"Kabuki" Face Paint
"Boxman (The Orange)" Accessory
Mother Base Nameplate
Here's an overview of the game, via Konami:
Metal Gear Survive picks up from the ending of Metal Gear Solid V: Ground Zeroes. Players are pulled through a wormhole and find themselves in a dangerous world filled with biological threats and hostile environments where they must survive and find their way home. Not only will they fight off deadly creatures, but also explore and forage the environment for food, water and other resources to stay alive. Scavenged materials can be used to build weapons, buildings and other useful items, as well as develop a base camp, where crop growing and animal rearing facilities can be added. New weaponry will also be introduced to combat charging creatures and lethal environments, as well as familiar weaponry such as Walker Gears and Fulton balloons.

Metal Gear Survive continues the pedigree of Metal Gear Solid V's highly praised gameplay, with a unique blend of stealth and survival mechanics. Players will be able to experience both a single player campaign and co-op of up to four players. In the single player campaign, players will learn resource management, character progression through base camp development, and craft useful weapons and equipment that can be utilized in the co-op gameplay. In co-op, players will fight with their comrades online to collect rewarding loot which can aid in the single player campaign.
View a new set of screenshots at the gallery.