Lost Dimension for PC launches October 30
First trailer and screenshots of the PC version.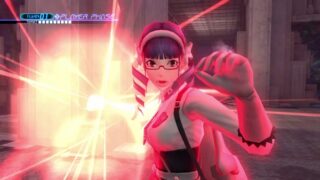 Lost Dimension will launch for PC via Steam on October 30 for $24.99 with a 40 percent launch discount, publisher Ghostlight Interative announced.
Here's an overview of the game, via the Steam page:
About

In the near future a terrorist mastermind, known only as 'The End', threatens humanity with nuclear armageddon. A special task force, the S.E.A.L.E.D team, are the only ones who can stop him: a group of young combatants with incredible abilities and each with a mysterious past. Together, they must climb The End's formidable tower one floor at a time and bring him to justice. Each of the S.E.A.L.E.D. members' psychic powers will be put to the test against the sinister occupants of each floor as they race against the clock – and the traitors hidden within their ranks – to save the planet.

For the first time, you can now play the critically-acclaimed Lost Dimension on PC, featuring all the thrilling tactical RPG gameplay of the console original and a raft of PC-only improvements. As S.E.A.L.E.D. team leader, Sho Kasugai, you'll need to master a deep-but-intuitive combat system, build relationships with your squad-mates and use logic to discern the traitor on each floor to progress. Only Sho has the skills necessary to weed out the traitors and defeat The End. The world is waiting…

Key Features

Deep turn-based tactical RPG combat system: Defer turns, assist your allies, use your team's incredible psychic Gifts and combine their powers to gain victory!
Uncover the traitors: Use your psychic powers to hear your teammates thoughts and figure out your suspects. But beware, the list of traitors is different every time you play!
Awesome skill tree: Unlock and level up a huge variety of skills. Try to create the ultimate tank or support builds for your characters and swap out eliminated members' Materia to unlock new, high-powered Gifts.
Uncover the truth: Multiple endings to discover. Who is 'The End'? What are his real motives? Only by gaining the trust of all your team members can you find out!

Free Downloadable Content

The game also includes the following free DLC bundle:

Sho's "White Regalia" costume – A special costume for the Sho character. (Equip Sho's costume via the Setup / Equipment menu.)
VP +1 – Vision point +1. (Use VP +1 item via the Setup / Items / DLC sub-menu.)
"Medical Set A" – including "Health Capsule", "Mind Capsule" and "Life Pack" items. (Use Medical Set A items in battle or view them at the Generator menu.)
Watch the first trailer for the PC version below. View the first screenshots at the gallery.