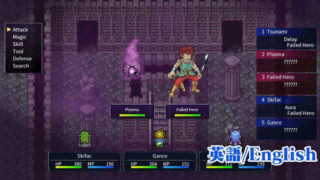 Poisoft has launched a Kickstarter campaign seeking ¥5 million yen (approx. $44,508 USD) to localize Order Land, which recently launched for Switch in Japan, for Switch, Xbox One, and PC in North America and Europe. If they reach a ¥6 million yen stretch goal (approx. $53,478 USD), a PlayStation 4 version will also be released.
Here's an overview of the project:
Why Kickstarter?

This project is seeking support for translation costs to develop an English version of Order Land!, which was released in Japan for Nintendo Switch. In one word, Order Land! is a "King Simulation + Training Hero Adventure + Hero Adventure RPG." There are thousands of texts to appropriately express these in English, so the translation expenses will become greater than usual for releasing this wonderful game in a language other than Japanese.

However, we found a wonderful paradise called Kickstarter. We really would like everyone in the world to enjoy Order Land!, so we would like to request your assistance!

When funds reach 5 million yen, Order Land! will be properly translated from Japanese to English and released on Steam (PC), Xbox Live, and Nintendo Switch in North America and Europe.

Order Land! is a mix of three genres, which are Simulation, Adventure, and RPG. It is currently available for Nintendo Switch and Nintendo 3DS in Japan.

King's Play

We would call this mode "open world, but you cannot move from your chair." The king you control does not move even a step away from the throne, but you will have an impact on the vast world.

You can do whatever you want as a king in this vast world. For example, domestic politics, diplomacy, war for expansion of territory, response to the devil, and so on. Whether this vast world is good or bad depends on you.

Good Things You Can Do:

Endeavors to make a safe area.
Resolve problems by listening to the troubles of residents in your country.
Support the heroes' adventures.

Bad Things You Can Do:

Catch the heroes and put them in prison.
Set the tax rate to 100 percent.
Make friends with the Devil and overlook them attacking your own country.

Hero's Play

There are other modes besides "King Mode," such as "Training Mode," in which can train your own original heroes, and "Hero Mode," in which you can do anything you want as a hero .

In " Training Mode," you can create a young character who wants to be a hero. You can travel the vast world with unique allies to become a true hero. The hero you create could also appear in "King Mode" or "Hero Mode."

In "Hero Mode," you will control a hero in the world of Order Land!, and you can enjoy traveling as much as you want. Of course, you can also control the original heroes you created.

By playing these modes, you can enjoy the same world from different angles and viewpoints.

Also, there is an online mode in which you can upload your own heroes, download heroes made by other players, and fight against them in the coliseum.
Watch the pitch video below.