Guacamelee! 2 announced for PS4
Four-player co-op sequel due out "soon-ish."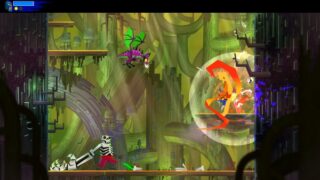 DrinkBox Studios announced Guacamelee! 2 for PlayStation 4 during the PlayStation Media Showcase at Paris Games Week 2017 pre-show. It will launch "soon-ish."
Here's an overview of the game, via DrinkBox Studios:
About

Guacamelee! 2 picks up seven years after the original story. Juan Aguacate is living a happy life with his family, when his friend and trainer Uay Chivo discovers a new evil menace that threatens to destroy not only Mexico, but time and space itself.

Key Features

Eagle Boost – A hooking mechanic that allows Juan to attach and fly through "boost points" in the environment.
Super Chicken! –A unique set of abilities for the chicken form, giving the player more varied and interesting chicken gameplay
4-Player Local Co-op – Take on enemies as a group or solo.
New Environmental Mechanics – Throughout the course of the game players will encounter many new mechanics to complement both platforming and combat.
Visual Enhancements – A redesigned lighting system to take more advantage of the power of the PS4. Guacamelee! 2's visuals are a big step above those of the original game on PS4, and are enhanced further to include 4K and HDR support when played on the PS4 Pro.
Watch the announcement trailer below. View the first screenshots at the gallery. Visit the official website here.