God Eater 3 teases protagonist, new fields and Aragami
"Large number" of new fields and Aragami promised.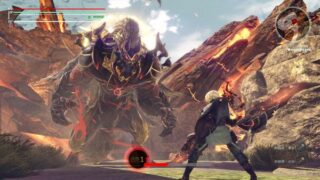 Bandai Namco has released new information about God Eater 3 to accompany the first set of screenshots released last week, teasing the protagonist, new fields, and new Aragami.
Get the details below.
■ The Protagonist

An illustration and screenshots of the God Eater 3 protagonist have been revealed. He wields dual God Arcs, and wears bangles on each hand unlike previous God Arc users. His outfit his taped up in a number of places, and he wears a cape with an image of a broken Fenrir emblem.

—With bangles that restrain both of his arms, it seems that the position of this protagonist differs greatly from those of the past.

■ New Fields

Field graphics have significantly evolved from previous titles and offer an atmospheric sensation through the depth and expression of light, dust particles, and other details.

—A canyon field where the sun shines through the dust hanging over. The protruding rocks have been broken, and their insides have dissolved and are illuminating as if they are eroding. Human-made objects can be seen here and there.

—A ruined field covered in a grey emptiness, where crumbling buildings are lined up one after the other. A huge hole is visible in the slanted buildings, which emits an ominous light as if it was eaten into and inflamed. There is truly no feeling of human presence here.

■ New Aragami

Aragami graphics and motions have significantly evolved from previous titles. Aragami will become an even greater threat that attack the player.

First details on the new Aragami, which was only shown as a silhouette in previous trailers, have been revealed. Its massive appearance will overwhelm the player.

The new Aragami will launch devour attacks against God Arc users. This God Arc user-devouring Aragami will change forms from quadrupedal traversal to bipedal traversal in order to launch even more brutal attacks. And it will not stop at simply damaging the devoured player.

When the new Aragami's form changes, its attack motions will also change in a big way. It is crucial that the player fights with different strategies during both its quadrupedal traversal to bipedal traversal phases.

■ New Actions

The God Arc possessed by the protagonist can transform into a two-handed weapon by connecting the handles. Whether the protagonist is in the Burst state or not, Oracle Cells will pour out from the bangle on his right arm.

With the God Arc in its gun form, it can fire a laser unseen in previous titles. This also marks the appearance of a new gun category.

Lively and exhilarating actions are well and alive in God Eater 3. Overpower Aragami with the shining trail of the protagonist's slash attack.

■ Plus Many Other New Aragami and Fields

In addition to everything shown above, a large number of previously unseen fields and new Aragami will appear. More information will be shared in the future.
Platform(s) and a release date for God Eater 3 have yet to be announced.
View the screenshots at the gallery.